I personally recommend the following locations since I have visited them all and found them to be excellent for bikers. Please connect with me on social media if you require further information.

Abhi
1-
Necklace Point
This point is on the way to Bhor near Bhatghar Dam around 1-hour drive from Pune. The river takes the shape of a necklace and is hence named necklace point.
There's nothing like a cloudy season filled with the promise of rain, to make you want to get in the car or on the bike and head out of the city to take in the lush green carpet and small water ponds that the monsoons bring in. But short on time? Looking for a place not too far with a promising view that will not disappoint? Let us point you in the direction of The Necklace Point.
Located just 50 km away, around one and a half away from the city, on your way to Bhatghar Dam, Bhor, and along the Satara Highway, the Necklace Point is a great pitstop. A popular tourist attraction, where two rivers, Nira and Gunjawani River meet, and the bend that is created looks like the necklace from up top, hence the moniker. It is a great spot for the clickerati to get in some good snapshots for the gram.
For the great outdoor explorers, you can park your vehicle and scale the hill nearby. Just make sure you carry enough water and food and wear anti-slip shoes. During monsoons and winter, the spot also turns into a bird-watching paradise. Psst, we also hear that many Marathi and Bollywood films have been shot here. With a gorgeous backdrop like this, why not? If time is on your hands you can also pay your respect at Ketkawale Balaji, Baneshwar or Kalubai Mandir nearby and also go visit the Bhatghar Dam.
Best time to visit: Monsoons and Winters
Distance from Pune: 50 km, about 1 ½ hour
Google Location: https://goo.gl/maps/ktT3xLErsiKz89B89
---
2-
Pawna
Located just 52 kilometers from Pune, Pawna Lake is the campsite you read about in Enid Blyton books while growing up. The lake is an artificial one, located just off of the old Mumbai – Pune highway. Easy to reach, and absolutely breathtaking on cloudy dewey mornings, this place hosts several camping excursions.
I would suggest taking a look at Pawna Lake Camping to get a great deal on stay and meal packages. If you're not in the mood for camp food, the roads are dotted with dhabas that serve everything from North Indian to South Indian to traditional Malwani cuisine. Give this one a visit and you'll thank us later.

Distance form Pune: 52.2Km
Best time to visit: August to February
Google Location: https://goo.gl/maps/cUiLbbwYpR8hGiE87
---
3-
Tamhini Ghat
Picture misty sprays of water as you wake up to a foggy valley. Now make it turn into reality with a ride to Tahmini Ghat. This not-so-crowded spot is located just 1.5 hours from Pune and offers one of the finest natural landscapes in Maharashtra to feast your eyes on. The place is known for its lakes and impromptu waterfalls. In fact, when riding there, you can start seeing small water streams trickling through the rocks at the side of the road once you cross Mulshi Dam.
Don't forget to watch out for the Mulshi waterfalls, especially if you're visiting the place during the rains. For a truly unforgettable visit, ditch the hotels and invest in a tent and sleeping bag. The lakeside beauty with a clear, starry sky above is bound to put the right end to your road trip. However, check the weather regularly for rain forecasts since the place is famous for having grey clouds hang low from August to October.
Distance from Pune: 53Km
Best time to visit: August to December
Google Location: https://goo.gl/maps/MKjBqMWYnsgSso2r5
---
4-
Bhigwan
A flamboyance of flamingos is busy feeding in the shallows. The birds stand on lanky legs; their necks are bent low to the water, beaks upside-down. It is a scattered flock of 16 birds. While some are adults with white and orange feathers, others are young birds with a cream and brown coat. When the water levels are right, many more of these birds are found here. They gather in their hundreds, sometimes thousands.
In a way, the flamingo is the "tiger" of Bhigwan. People come here especially for this bird, says my guide Ajinath Dhumal. "When I show them some other birds like the painted stork, they insist on seeing the flamingo." It's like going on a jungle safari to see the tiger, Dhumal quips.
A quaint fishing town in rural Maharashtra, Bhigwan sits along the backwater of the River Bhima. This backwater, which is the reservoir of Ujani Dam built downstream on the river, is known colloquially as Bhigwan Bird Sanctuary. The human-made wetland and its surrounding mix of grasslands and farms are home to nearly 300 species of migratory and year-round birds. The greater flamingo, like many migratory birds, arrives here in time for winter. It spends the season feasting on plankton, giving it the characteristic multi-hued appearance.
Distance from Pune: 102 Km
Best time to visit: December to March
Google Location: https://goo.gl/maps/166E32BYtqdGG1G66
---
5-
Dudhiware Khind
The sacred mountain pass behind the Malavli Fort – Dudhiware Khind near Lonavala, on the road to Pawana in Maval, Maharashtra
There is a delightful motorable road behind Lonavala, after Walvan and Nangargaon towards the Pawana Dam. This road goes below the Mumbai Pune Expressway and climbs suddenly, very rapidly and alarmingly, through an abrupt escarpment. Before you know it, you are at the most delightful mountain pass that you would never have expected, if you are a regular traveler on the expressway or on the Mumbai Pune highway. Most trekkers and climbers on the Western Ghats know this pass, and they do encounter it with happiness when going towards the Malavli fort.
The Dudhiware Khind, or the Dudhiware Pass, as it is called, is just before the Dudhiware village. The word 'Khind' is meant to signify a 'sacred pass'. This would probably be because there could have been a battle of some sort, and some local warriors would have achieved martyrdom. Thus, a mountain pass becomes known as 'Khind' in the Western Ghats. Immediately after the pass, one can drive up or walk or cycle up to the Malavli fort, and get a good local family to provide for the best cuisine that one can enjoy, but, of course, that's another story.
Distance from Pune: 62 Km
Best time to visit: July to September
Google Location: https://goo.gl/maps/52HoaMZtnhwAMPdm6
---
6-
Panwadi – a road trip through Europe
The beauty of Pune is that you don't have to drive far to get out of the city and in the midst of nature. Every white road branching off from the highway has something interesting to offer. Most of us would have visited the Narayanpur Balaji temple dozens of times. That route is also quite scenic. But, a small unassuming road branching off this road takes you on a magical, green route untouched by the crowds seen at other popular monsoon destinations close to Pune.
This route is full of roadside farms on the slopes. The terrace farming style makes the natural streams wind their way through all the farms. There are no major villages on this route. Hence you are practically on your own for most of the route. But the greenery keeps you company
This is not the route to go on if you are looking for big waterfalls. For that, you have to go to Thokarwadi. This route is more for a relaxed, scenic green drive! I saw only one big waterfall and this too was fed by the overflow of a bund upstream and so might not always be there. But this was good enough for the kids to have a lot of fun!
Distance from Pune: 42 Km
Best time to visit: July to September
Google Location: https://goo.gl/maps/qTsuxs3EcVKiHRxa7
---
7-
Solashi Windmill Farm
Solashi village is situated in the Koregaon tehsil and district Satara. solashi is a small village in the western ghat region which is 8 km away from Mumbai – Bangalore highway after a Khambataki ghat from Vele village.
There is a famous Solashi Shani Temple in this village if anyone wants to visit, it's a good place to see on this ride.
Solashi windmill farm (off the Pune-Bangalore highway, on the left after crossing Kambhatki ghat).. a mix of highway and off-road riding. It's 86 km from Pune towards Satara and it takes 90 mins to reach in normal condition, roads are very good, even off-road is very smooth.
Just avoid going in heavy rains, else anytime is a good time to ride.
Distance from Pune: 86 Km
Best time to visit: July to December
Google Location: https://goo.gl/maps/1Yj7aFpdnhvGq5C37
---
8-
Temghar Dam
Temghar is a stunning, earth-fill and gravity dam of around 1 km span across River Mutha, flowing right into Pune City. The dam and approach road leading to Temghar and further to the famous man-made hill station, Lavasa presents a nice drive across many small and serene villages.
At a little distance of less than one hour from Pune, Temghar presents a nice weekend breakaway option. There are few little options of small hotels with tents, rooms, and bungalows. A stay in any one of the places, away from high profile Lavasa can be as refreshing as fresh air in a non-concrete environment.
A walk down the river bed on an early morning or a late evening is a real bonus. The recommended time for a visit to this place is early monsoon and just after the monsoon.
Take a right turn from the dam and explore the off-road ride, this track is really best for bikers.
Distance from Pune: 48 Km
Best time to visit: July to February
Google Location: https://goo.gl/maps/17W1n8UL5H7aYfXDA
---
9-
Bhatghar Dam
Bhatghar Dam was built on the Yelwandi river in Bhor takula of Pune District in Maharashtra, India. it is one of the highest river dams walls in India. It is a gravity dam. Bhatghar Dam is also known, Lloyd Dam. Beautiful gardens with water sports have been developed in the surrounding areas. The surrounding area is also worth watching.
The main purpose of the dam is to provide hydroelectricity and irrigation facilities to neighboring areas.
Around the other side of Bhatghar dam, there are numerous resorts and camping grounds. A new type of luxurious camping called glamping is also available here. This is the best area for spending a weekend near Pune city. And if you are short on time, you can do a quick road trip to explore the region.
Distance from Pune: 62 Km
Best time to visit: June to February
Google Location: https://goo.gl/maps/17W1n8UL5H7aYfXDA
---
10-
Bopdeo Ghat
We often get bored with regular routines. If you're tired of sitting at home or in the office all day and want to get some fresh air, then just 30 mins away are the famous Bopdev Ghat is the perfect location for such a sudden 'Chal Kuch Karte Hai' mood! Located on the way to Saswad, there are two ways to reach Bopdev Ghat; one is from Hadapsar and the other goes through Kondhwa. If you are planning to take the Hadapsar route, it's a 24 km drive/ride that'll take about 40 minutes.
This is the most scenic place and very close to city, view is jaw dropping from this place, very calm place to do yoga, music nad book reading.
Distance from Pune: 17 Km
Best time to visit: June to February
Google Location: https://goo.gl/maps/DWsxDeByhci3aRPz9
---
11-
Mastani Lake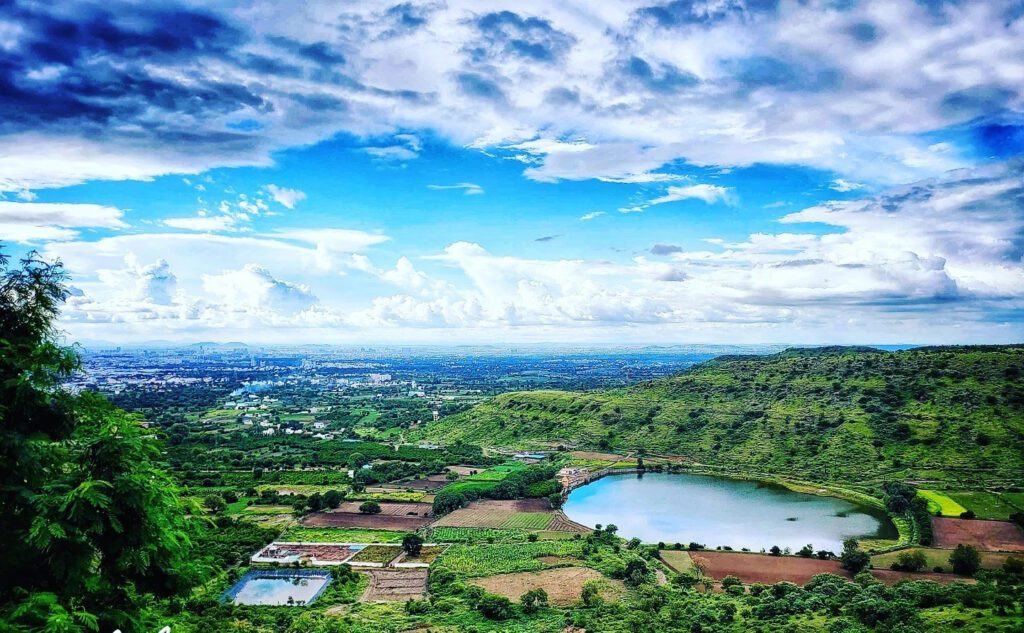 300 years and counting, Mastani Lake has a formidable past and promising future. As a symbol of romance to a key water source to villages nearby, here's everything you need to know about Mastani Talav in Pune.
Built around 1720 AD, Mastani Lake or Talav has a fascinating history attached to it. The lake was actually called the Wadki Talav. The name was later changed after the two love birds, Bajirao and Mastani kept visiting the spot and it was often considered to be Mastani Bai's bathing spot.
It is believed that the lake on the outskirts of Pune was frequently visited by Bajirao Peshwa and his second wife, Mastani when they went horseback riding. They would stop and take a swim in the lake often. Bajirao started constructing the walls around the lake before his demise and soon after his passing, Mastani also breathed her last. None of them saw the lake walls finished. And even after 300 years after it was built, the lake (and it's walls) have stood the test of time. Today it's a spot romanticised and considered a romantic spot where young lovers still flock to for some alone time.
Lake Mastani is also a popular spot for picnickers and camping enthusiasts. The lake has two temples located around it and the lush green farmland invites rabbits, deers and peacocks often. Get those cameras out and make sure you capture the beauty.
Distance from Pune: 19 Km
Best time to visit: June to February
Google Location: https://goo.gl/maps/bHMYyznyEF41xgAa7
---
12-
Bhuleshwar Temple
The temple is dedicated to Lord Shiva and was built in 13th century during Yadava Rulers. It is believed that the temple was ruined by Muslim invaders and reconstructed later because the entrance of the temple is hidden like Gaimukhi Buruj construction of Shivaji's time. The fort on which the temple is situated is called as Daulat Mangalgad Fort.
The temple is unique because of its architecture. Black basalt rock was brought to construct this temple which is different as compared to surrounding brownish color basalt rock. From outside it appears to more as a mosque than a temple due to its resemblance to Islamic architecture like circular domes and minarets. There are classical carvings on the walls.
The temple contains five Shivlingas in its sanctum. Owing to their being hidden in a trench, these Shiva Lingams can be seen in light. Goddess Lakshmi, Lord Vishnu and Lord Mahadev are also housed in this temple. The temple also has an idol of Ganesh in female attire and is popularly called as Ganeshwari or Lambodari or Ganeshyani.
This temple gets huge crowds during Mahashivratri. There is a local belief, when a bowl of sweet is offered to Lord Shiva, one or more of the sweets disappear. A little further about 15 Km from Bhuleshwar Temple is Narayanbet. The area is known for being home to migratory birds and is visited by many nature lovers and bird watchers.
Distance from Pune: 51 Km
Best time to visit: June to March
Google Location: https://goo.gl/maps/cgkCEVqdRnQyTum99
---
13-
Khandi
Point
The best part about monsoons is that nature is at its picturesque best! Rolling clouds, misty weather, carpets of greenery and waterfalls come alive! The milky white streams of water cascading down mountains and rock edges are truly a sight to behold. Make the most of the monsoons by heading to Khandi Waterfall located just a quick drive/ride from Pune city!
Explore the wilderness and enjoy the monsoons like no other by heading to Khandi Waterfall located in Khandi, a small quaint village located just 75 km away from Pune. For those who don't know, Maval Taluka is a waterfall haven with over 20 waterfalls that forms a picturesque background. Khandi waterfall is just one of these beauties as you'll also come across others namely Bendewadi, Lalwadi and Jagtap waterfalls.
Distance from Pune: 85 Km
Best time to visit: July to September
Google Location: https://goo.gl/maps/ADakZ3CQrQwL1Yjt6
---
14-
Kund Mala
Kund Mala is 30 KM away from Pune, I was exploring some untouched places around Pune Suddenly I came to know about this place, and the next day I was ready in the morning to visit this place. This is a very popular place for cyclists. A group of cyclists can be seen here.
A small dam is built on the Indrayani River, in the rainy season, when a lot of water comes into the Indrayani River, the water overflows on the dam, and it looks very beautiful in rainy seasons. So on the other side, it holds the water, after the water has fallen from this small dam and flows between the rocks so many potholes have been formed here, which look like the pothole of Nighoje.
It's a scenic view of about 300 to 400 meters. The water has cut the rock and water flows through the pothole. The Indrayani River is up to 20 feet deep on one side of the dam, while there is a paved part of the river which is 5 feet deep, where people can swim.
In front of the dam, there is a famous temple in the middle of the river, which is known as Kundrai Mata temple, In fact, this is Kuldevi for locals and near about villagers. The thing is that this place is a religious place and people coming here has to offer some flower to Kund Mala kuldevi.
Distance from Pune: 30 Km
Best time to visit: July to December
Google Location: https://goo.gl/maps/RtcN8Dz9YMayU18H9
---
15-
Kundalika Valley
Kundlika Valley is a very beautiful and mind-blowing place. The Valley is created by the erosion of the river Kundalika!
Tamhini Ghat and Mulshi Dam region is one the place which comes alive during the monsoon. Almost everyone in Pune plans to visit it in the monsoon. Kundalika valley came into my mind after searching for Andharban Trek (The Dark Forest) and I was told it is a strange place with two huge mountain walls separated by a narrow valley.
Mulshi Is Home To A Grand Canyon And It Promises Magnificent Views Of The Kundalika Valley
Maharashtra is blessed with hills, valleys, lakes and so much abundant natural beauty that we can't seem to get enough of it! Mulshi is known for many things; dams, resorts, treks, but we came across a viewpoint at the Kundalika valley that will take your breath away! Making it Mulshi's very own grand canyon! From this viewpoint, your eyes can see as far as the Kundalika River in the distance and the green carpet with a stone facade on the hills will make you reach for your cameras.
Distance from Pune: 75 Km
Best time to visit: June to September
Google Location: https://goo.gl/maps/gtvLgvsW9mVLgZ1F8
---
16-
Amrutanjan Bridge – Khandala
The iconic bridge, often the attraction of tourists for taking photographs of the picturesque Khandala ghat.
Built in 1830 near the Khandala Ghat, the bridge connected Pune and Mumbai. Later, it served as the third line for the Railways to reverse engines on the Bor Ghat section. This stopped after the introduction of power engines. After India got its independence, the owners of Amrutanjan relief balm put up big advertisements on the side of the bridge, which is how it was dubbed the Amrutanjan Bridge. However, the bridge was mostly lying unused after another bridge parallel to the original one was constructed.
Distance from Pune: 75 Km
Best time to visit: June to September
Google Location: https://goo.gl/maps/s34AtPLSmV2JPDJB9
---
17-
Kasarsai Dam
Kasarsai dam is a small dam built on a Kasarsai lake just near Pune. The Kasarsai dam is very close to Kasarsai Village and on another side of the Dam, there is Kusgaon village. The Kasarsai lake is a hidden beauty that is surrounded by lush green areas and hills. The distance of Kasarsai Dam from Hinjewadi is 10 km.
This place is becoming quite popular for adventure lovers, many cyclists come here in the morning. You can view Kasarsai lake from different points but for boating, there is a dedicated place near K Rocks resort. In front of K rock resort, there is parking that is absolutely free. Here is the entry gate for the Balaji Boating club. There is a huge platform in the center of the lake for fisheries.
This place is also becoming very famous for camping. There is a bungee jumping near Kasarasai lake, but its service is currently closed. Nearby there is a small film studio where professionals use this studio for photographers, pre-wedding shooting, or web series.
Distance from Pune: 25 Km
Best time to visit: January till December
Google Location: https://goo.gl/maps/DDFhbEMKVwkVU62M9
---
18-
Abandoned Plane
The owners of the Nishiland Water Park actually bought the plane for scraps for a whopping 1 crore rupees and made a few minor fixes to do up the plane, but sadly, the water park went bankrupt and hence the plane lies vacant so much so that even little birds have made a nest in the turbines. The plane has a stairway that leads you up and also has AC inside to keep you cool inside.
Since the plane cannot fly again, the plane is used a lot for shoots and films and even for some inflight coaching too!
Getting there, the plane can be spotted from the main highway on the old Pune-Mumbai highway and you have to take a detour and venture into the fields when you'll come across a big building that looks like an abandoned factory with scary clowns on the facade gathering moss. It is best to say that do not venture out alone and make sure you have somebody with you. So start exploring cause you never know what you will find!
Guard charge Rs 100 per bike for a photoshoot near the plane and another 100 rs for getting you inside the plane.
Distance from Pune: 95 Km
Best time to visit: January till December
Google Location: https://goo.gl/maps/nZXg2xbsx3BDGQxx9
---
19-
Madhe Ghat Waterfall
If you are looking for a one-day monsoon road trip near Pune, Madhe Ghat is the best option. Lush green views and drive through Ghat are worth experiencing. It is a good place to even visit with family. It takes around 2.5 hours from Pune.
Madhe Ghat has located around 70 km from Pune near the Torna and Rajgad Forts and is surrounded by dense forests. The main attraction is the stunning waterfall which drops almost 400 feet into the Shivthar River in Konkan. This drop, off the cliff, makes Madhe Ghat one of the most beautiful places around Pune.
You can explore the area on the plateau and enjoy the stunning views of the Konkan valley from atop the plateau. For the adventurous lot, make your way through a ravine into the valley and find yourself right at the place where the waterfalls! A safety tip here: Make sure that you don't try any stunts in and around the waterfall and are extremely cautious while wading through the water. It is advisable to travel in a group.
Distance from Pune: 80 Km
Best time to visit: July till September
Google Location: https://goo.gl/maps/az57nmHYjZgkfQB19
---
20-
Mandhardevi Ghat
A little-known Ambade ghat is on the Bhor-Wai road. Bhor is around 60 KMs from Pune. If you take an immediate left turn after Kapurhol turn on the right you are able to reach Bhor easily. Just before Bhor village is a turn on the right towards the old Bhatghar dam. A huge garden and a few benches facing the huge dam is amazing location to relax for a few hours. You are not allowed to click the pictures of the dam. There's another road to another side of the dam from where the water is let out. A good spot to visit in the monsoon.
Ambade ghat and Mandhardevi Temple visit could be your perfect weekend break a short and sweet excursion if you do not want to do any hectic treks. This could be a romantic scenic gateway, far from maddening crowds with plenty of waterfalls all of them especially for you to enjoy in the misty green serene surroundings.
The total ghat section is 10-12km.
The road goes to Kalubai Temple, the Hindu religious temple.
You can travel to Mahabaleshwar via Mandhardevi too.
You can do Pune-Bhor-Mandhardevi-Wai-Panchgani-Mahabaleshwar.
Distance from Pune: 80 Km
Best time to visit: July till February
Google Location: https://goo.gl/maps/GW4qzu7rbWxjFJAQ7
---
21-
Raireshwar Fort
Raireshwar is situated in Bhor Taluka near Pune, India. Raireshwar has a temple famous for its historical importance. The temple is very old and of stone structure, but it was later re-constructed in 18th century. Chhatrapati Shivaji Maharaj took the oath of Hindavi Swarajya in this temple at the age of 16 in 1645 and then created history. Its said that he had cut his little finger and taken the oath by dripping blood onto the Shivling. There is a large portrait of Shivaji Maharaj and his friends inside the temple. Thus, Raireshwar can be considered as an important place in Maratha history. It is situated in between various hills and forts such as Kenjalgad.
The temple is on a plateau, which is full of beautiful flowers during monsoon. Best season to visit this place is Monsoon. The way is a bit steep. Vehicles can be parked at the village down and people can walk towards Raireshwar. Nature is seen at its best at Raireshwar during monsoons. Kenjalgadh can be seen from Raireshwar at a distance. The places worth visiting on Raireshwar are Raireshwar Mandir, Gomukh Lake, Nakhinda (also known as Aswal Lake),Pandavleni. It is very beautiful place to visit during June to February.
Distance from Pune is 82 km. Pune – Bhor 56 km. Bhor – Korle 20 km. Korle – Raireshwar 6 km. many people come her for camping too and the villagers can help in accommodation and food on the plateau. You get lovely Mahrashtrian Bhakri along with Pithla and Tak (Buttermilk).
Distance from Pune: 82 Km
Best time to visit: July till March
Google Location: https://goo.gl/maps/BZocoT6pwnuK4Bcm8
---
22-
Panchghani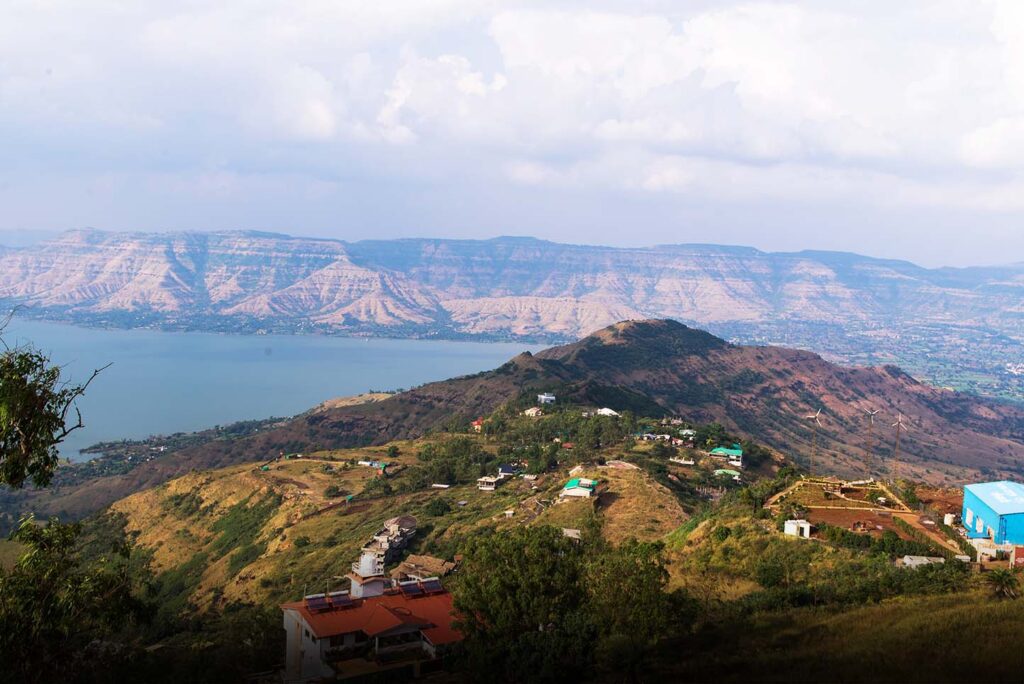 The 'Land of Five Hills', or Panchgani, is a distinguished hill station in Maharashtra. Located far away from the bustling city of Mumbai, Panchgani promises its visitors a trip they could cherish for life. The name Panchgani literally means 'five hills'. It was discovered by the British as an ideal summer resort. The climate here remains stable and pleasant throughout the year and the place pulsates with greenery and captivating scenic beauty and the environment is pristine and uncontaminated.
One can enjoy the spectacular view of Krishna River, which accompanies you all the way through, until you reach Panchgani. The lush green scenery, fresh air and view of the Krishna River are simply breathtaking. Also adding to the overall charm, Panchgani is dotted with a number of cottages, build in the colonial style. You can also spot various buildings of British architecture. Read through the following section to get a clear picture about the place.
Places To See
The 'Table Land' in Panchgani is the most sought-after destination. It is a volcanic plateau situated at a height of 60 meters, and is the second highest in Asia after the Tibetan Plateau. It earned the name 'Table Land' for its flat surface.
The Devil's Kitchen and Pandvgadh Caves are also places to visit. The Rajpuri Caves in Panchgani are vital for their religious aspects. Surrounding these ancient caves are many ponds called 'kunds', and it is believed that whosoever takes dip in these sacred ponds is freed of diseases, sins and evils. The temple dedicated to Lord Karthikeya is a chief attraction here.
The Parsi Point is a major picnic spot, situated on the way to Mahabaleshwar.
Wai, a city situated on the banks of the Krishna River, is famous for its picturesque scenery. It is also dotted with many temples in the seven Ghats, namely, Gangapuri, Madhi Aali, Ganpati Aali, Dharmapuri, Brahmanshahi, Ramdoh and Bhimkund.
Distance from Pune: 98 Km
Best time to visit: July till March
Google Location: https://goo.gl/maps/3Ci5FHMwnYGSSY4n6
---
23 –
Kadve Khind
A narrow passage between the hills on the route connecting Welhe Town (Torana Fort) to Panshet Village (Dam). History records it as a place of strategic importance and a place to trap the enemy (guerilla warfare). Chattrapati Shivaji Maharaj took this route for the invasion of Surat.
The place has cool, pleasant, lush green surroundings and mindblowing scenic beauty. A MUST visit and STOPOVER place when heading towards Torana from Pune. Bare in mind though that the road might not always be in good condition as it is a less taken one.
Distance from Pune: 50 Km
Best time to visit: July till Feb
Google Location: https://goo.gl/maps/mUyHLZ3tJFGnhJvU9
---
24 –
Pabe Ghat
Monsoons are the best times when nature blooms and the lush green Sahyadri hills blossom their flora and fauna . … You can drive your way to Pabe ghat, won't take more than an hour. Local transport Buses also take you till Pabe ghat.
Pabe & all the surrounding locations are excellent getaway spots for a weekend. A great treat for photography. Amazing landscapes. Much supreme driving skills are needed though. Great weather and pleasant environment. Visit before the construction gets its grasp over there.
Beautiful location, lovely ride up the ghats. Enjoyed hot chai and fresh poha here. There's also a short offroad up to the viewing point. You can easily trek up there. Must visit during monsoon season. The road is well maintained.
Distance from Pune: 40 Km
Best time to visit: July till Feb
Google Location: https://goo.gl/maps/da7G5PdaF29KGVPe9
---
25 –
Slope of Hell (aka Tower Hill)
The Slopes of Hell near Kamshet is a well know spot for off-roaders be it a motorcycle or 4X4. Just an hour's drive from Pune will take you to this place. Not sure about how this place was discovered, but the actual place hosts a relay tower on top of the hill. While scanning the areas around Kamshet on google maps, I stumbled across this place. On further reading about various sites, found out that it was quite a popular spot for off-roading. 
This place is near Kamshet and is located in the wilderness. Nobody ventures to this part of the hillock. Somehow the place is not that crowded and that could be due to the place being located interior and doesn't hold any significant tourist attraction. However, people coming to Kamshet for paragliding or for a weekend to relax can try this part of the hillock if the adventurer inside urges them to. The place is true to its name. It is located some 7.2Km from the main highway (Old Mumbai Pune highway) and a small diversion on the arterial road leads to this point.
Distance from Pune: 50 Km
Best time to visit: July till Feb
Google Location: https://goo.gl/maps/7tCh4JSDcnRqLxq96