Gandikota is a very small village in Kadapa District of Andhra Pradesh, India. Known to few ardent travelers Gandikota is not the usual tourist hub since it is neither a world heritage site, nor is it marketed well by state tourism agencies.
While it deserves so much more, this untouched, unexplored, uncharted place is probably the most unbelievably amazing place we have been to in recent times. A frozen in time village in the middle of centuries old structures such as forts and temples to granary and jail overlooking a 300 feet river gorge reminiscent of Grand Canyon of Arizona with sights of windmills on the distant mountains – never thought all this could be found together in one place.
It is close from Bengaluru, Chennai and Hyderabad from where you can simply drive off over a weekend. The best part, however, is that a trip to this place will let you cover two other interesting places which include Belum Caves – Gandikota Fort – Gooty Fort.
This was my first trip out of Hyderabad city after my move.
Certainly, I decided to go Gandikota also called as "the Grand Canyon of India". I checked with my colleague Sansar Verma if he can join me on this trip since I found him "like minded" and it worked out with him also. So we planned to go very next day.



A two day camping road trip started on Saturday early morning to cover some places on the way. I took my Vento and started our journey @ 4am, we packed up all the necessary things to cook, eat, sleep, walk in the dark and survive in any kind of weather which gandikota will surprise us with.




We took tea break around 6am at a road side tapri (Tea Stall) and from here my friend drove the car.
We took NH 44 Hyderabad – Bengaluru highway until Gooty, and from Gooty we took left turn on NH 67 till Belum Caves, road was fantastic and weather was pleasant. We had our breakfast (Egg Curry and Paratha with tomato chutney) at roadside dhaba around 8:30am.



It took around 6 hours to cover 350 Kms then we reached Belum Caves. We were driving on medium speed and enjoyed the drive. Very fewer traffic on the highway really helped us to enjoy this drive.
It was month of March and not so hot but when we reached Belum Caves it was very sunny and hot for the March, we took refreshments 🙂.



The entrance pit was originally much smaller than what one sees today. It has been broadened as part of development of the caves to install the staircase to allow visitors to descend and ascend easily.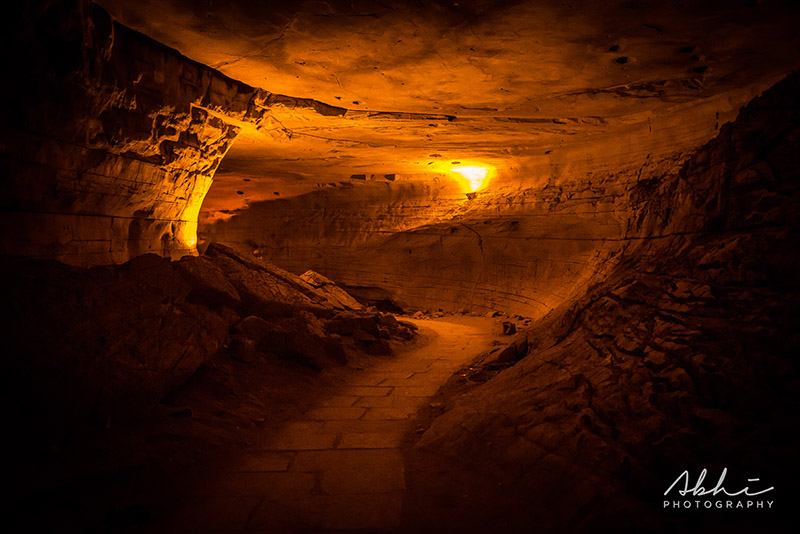 The Belum Caves which are located near Belum Village in Kolimigundla Mandal of Kurnool District in the state of Andhra Pradesh. These caves are 8 km (5.0 mi) long however only 1.5 kms of cave is open for public.

This cave is second largest caves on the Indian Subcontinent after the Krem Liat Prah caves in Meghalaya. here are indications that Jains and Buddhists monks occupied these caves centuries ago. Many Buddhists relics were found inside the caves. These relics are now housed in Museum at Ananthapur.



There is a sizeable Buddha statue near the caves. One of the caverns at Belum is known as the "Meditation Hall", which was used by Buddhist monks. Relics of the Buddhist period were found here.



After spending around 90 minutes in Belum cave we started our final destination towards Gandikota. while we were passing through villages I collected some cow dungs to get the quick fire setup and a kind person on the spot help me to get some in bag.



Once we reached our destination we left our car beside the fort and started walking towards the beautiful gorge and this place was surrounded with all golden rocks and the fort was made up of these golden rocks it was complete camouflage, we couldn't realize it from a quite distance also.
All these places are all clustered around on the way to the canyon. Only one Madhavrayaswamy temple is a bit off the route.Not wanting to miss the sunset , just had a glimpse of the Jail, Jamia Masjid, granary & Ragunathaswamy temple beforing heading to the Canyon. The Masjid has a mighty presence.

Things to see in Gandikota
The fort itself ( if you have lots of time )
Charminar
Ranganathaswamy temple
Madhavrayaswamy temple
Jamia Masjid
The beautiful gorge/ canyon
Jail, Granary etc
A river cuts through rock, not because of its power, but because of its persistence

Jim Watkins
The beautiful canyon welcomed us in all its glory. Walls of the gorge are multi layered like a cake.
Orangish brown rocks layered represented millions of year of evolution. The Pennar River had cut through these tough rocks for an eternity for us to enjoy this view now. I didn't let its effort go waste and got busy with the camera. I moved from one spot to the another to get the best possible picture. The sunset was divine.
From here we decided to trek down to reach the river and will put our tent over there. The view from this place was so amazing, I fall in love of the view and place. But there was lot more to see and do, so we moved ahead to look for a way to get down.


From the top of gorge the riverbed appeared quite near by and it seemed like a good idea to walk all the way down to camp.
Somehow we took the nearest path with the help of water pipeline and we get down to the river. This was too dangerous it was almost 50 degree steep slope with loose sand and stones. But this was the most memorable and unplanned trek we did.



Here we met a shepherd who was speaking in his language that we could not understand and even he was not sure about our alien language, so talk in sign language with him. This was the another memorable thing in this trek.

Though it was dark by the time we came up, so we looked up for a place to set our tent and it was done in next 30 mins.


Here we started preparing our dinner, where Sansar was making veg barbeque and I was preparing for Baati and Baingan Bharta. Cow dungs and woods were finally worked out for preparing our dinner and this was such a satisfying moment of the day.



So I put the Baingan and tomato into fire for quite some time till its baked and took them out, clean them and made baingan bharta in a earthen pot by giving a spicy tadka to it. And pour some ghee to get the real flavor.
Finally our dinner was ready and its aroma was making us so hungry that we cant stop ourself and we started our dinner with barbeque and ended with Baati and Bharta, taste was very smoky and delicious. You can imagine after a long day you get such a delicious food and you feel satisfied.



My friend Sansar also called the nearby campers to have some bites with us and but they finished our food 🙁 but kehte hai "Khane Khane pe likha hai Khane wale ka naam" and it came true here…

These guys came from Bangalore and were not prepared with any food neither they found in nearby village and they praised us for this delicious food.
This is how our day ends late in the night with a wonderful memories.


Next day, Gorge view of river Penna in the early morning with bird chirping sounds was a fantastic view and an amazing spot for a photo shoots.

Then we started our return journey towards Hyderabad at 8am and reached home around 5pm.



Highlights of this trip
Unique trip with amazing trek around the golden rocks
Surrounded with natural beauty and nature lovers
Good to visit this place between Oct-Mar
Excellent location for astrophotography
Camping over the rocks with campfire
Food Menu- Veg Barbeque, Baati, Baingan Bharta, Baati Churma with Jagerry and Ghee.
Spending a night here is worth, resort is also available here
Lots of things for photographers to capture here
Some random clicks of this trip

#AbhiPhotography #NikonD610 #Gandikota #GrandCanyonOfIndia