Hyderabad & Secunderabad
Hyderabad and Secunderabad are twin cities, separated by the Husain Sagar (bound by the 'Tank Bund'), a man-made lake made during the time of Ibrahim Qutb Shah in 1562. Why go far when you can instead take control of the wheel and explore your own city? A city photo walk is that perfect opportunity to forget all your worries and make memories along the way.



Secunderabad

I love this city and I want to bring the beauty of Hyderabad in front of you. I had planned to capture the city from my lens and bring the complete picture of life in Hyderabad and Secunderabad. I started my photo walk early in the morning to cover maximum places in my day. I took the metro train from Miyapur to reach Secunderabad.



I decided to move to multiple places of Secunderabad and Hyderabad where I can connect with people and listen they say about the twin city. I was curious to meet people, capture them, talking with strangers and I have always loved this thing. It was the moment where many of them were shy because I had a camera in my hands and I told them it's not going to harm them. Photo walks are not so easy in cities not in rural tough.



I started my photo walk from Secunderabad railway station to capture some real-life portraits, candid and day-to-day activities where most of the emotions flow. I pend around 45 mins near the station and also went to Alpha Hotel in front of Secunderabad Station here you still found the bakery items in single-digit currency (Rs 2, 5, 8, 10 ) and the crowd is always there, its a heritage place. Most people go for Chai and biscuit even biryani here is very famous and most affordable for the family. After this, I headed to Monda Market.


Monda Market
Monda Market is a vegetable market located in Secunderabad. It is said to have been established more than 100 years ago to cater to resident British army units. The market is located approximately 500m from Secunderabad Railway Station. It was one of the largest wholesale and retail markets in Hyderabad.



I captured many veggie and fruit merchants, I found some of the faces which were ready to share the happiness and that is what I need in my Photo walk. I realize that this market is small but caters to most of the population of Secunderabad. I can see the redness of the hawkers for the evening crowd coming for shopping.



I walk down to some of the allies of this market to capture the street and life of people running their business on the nearby roads. I saw some very old traditional shops running a business in the same old way and even the customers I found were quite old.



Osmania University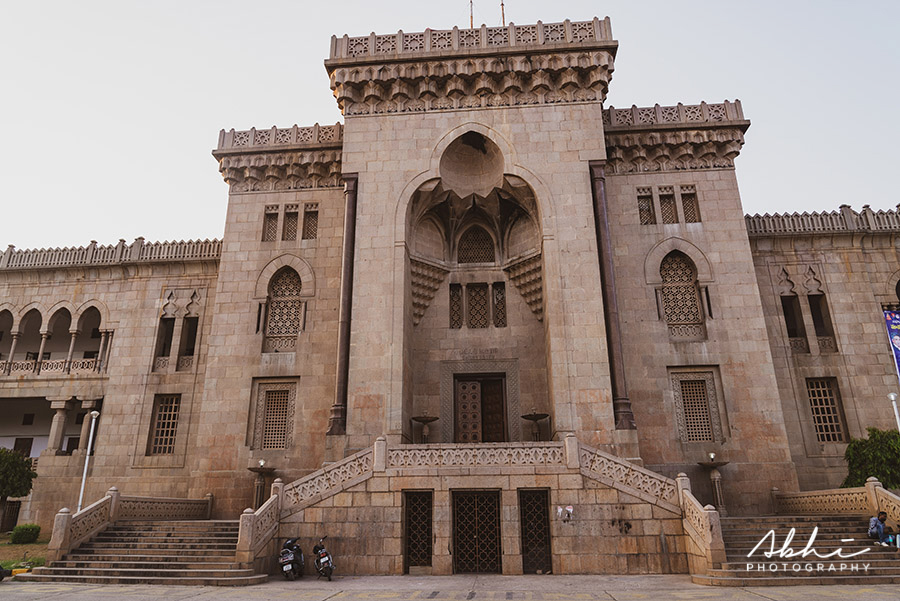 The next stop of my walk was Osmania University, this was the place I heard from long back and always wanted to see the campus. Its huge area and the departments are scattered in this humungous campus, you find students (Future of India) all around.



Madina Market – Hyderabad
My next milestone was Madina Market Near Charminar and I wanted to cover the life in the market. I took a metro again to reach my next destination and with a break of an hour, I was in Madina Market, known for Clothes, Artificial Jewelry, Pearls, Crockery, and many other household materials.
I capture some of the interesting moments of this market and head towards Charminar the main attraction of the city and found people are here more for shopping than Charminar. Many tourists come here but due to crowd get distracted and get involved in shopping.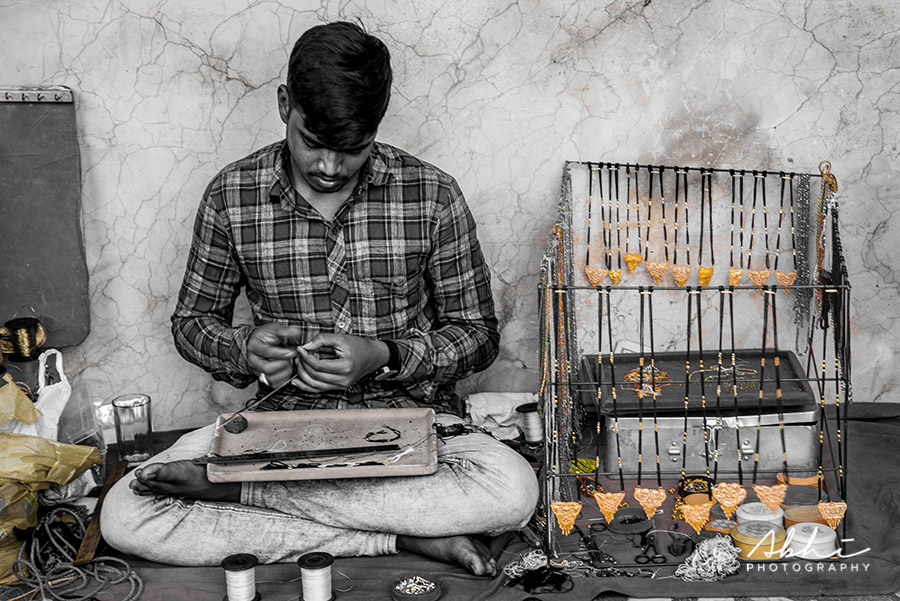 None of the space on this road is left without business and people, every inch is utilized and many of the hawkers are on the roads since they do not have shops. Everyone gets good business over here in spite of the competition next to them.



Charminar
Situated bang in the heart of the old city of Hyderabad, the Charminar (Urdu 'Char' meaning Four and 'Minar' meaning Tower) is one of the most recognized monuments in India. It is the architectural icon for the city of Hyderabad, equivalent to the likes of the Taj Mahal of Agra or the Eiffel Tower of Paris, and is the most searched historical site of the city on Google. The imposing monument stands regally tall amidst the colorful bangle shops in the labyrinthine Laad Bazar of the old city and presents a beautiful glittering sight after nightfall (7 pm-9 pm). 



Chowmohalla Palace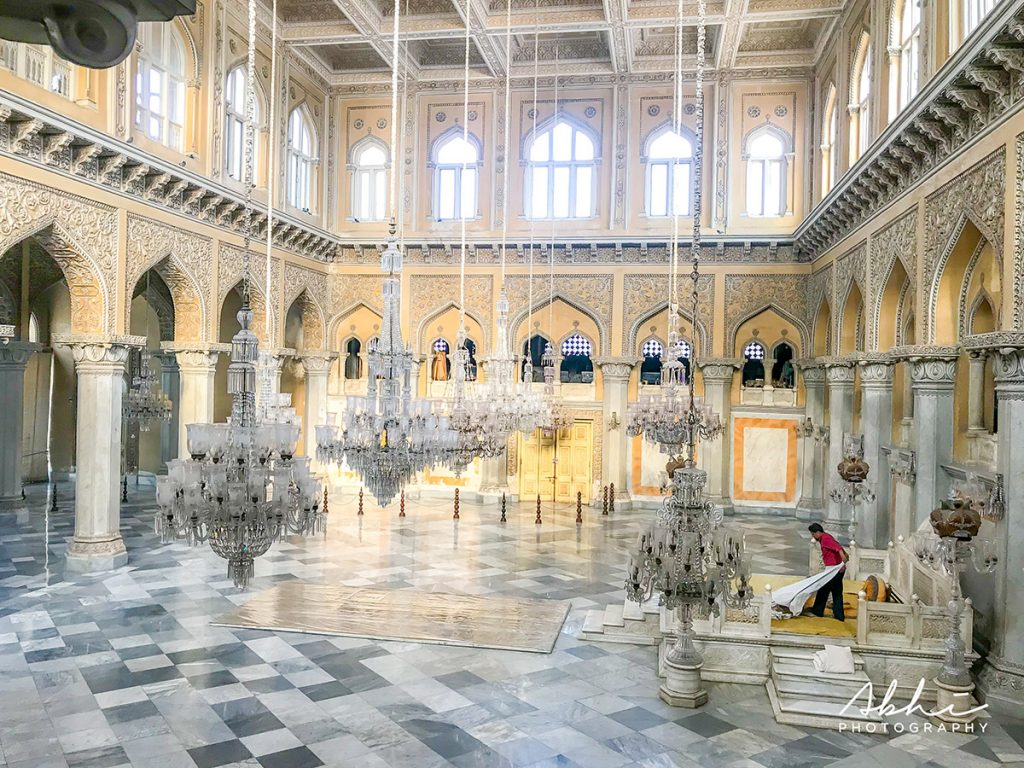 My next milestone was Chowmohalla Palace, the Chowmohalla Palace was built in Hyderabad between the years 1857 and 1869. In essence, Chowmohalla can be literally translated to mean 'Four Palaces'. The magnificent monument consists of two massive courtyards as well as a grand dining hall known as 'Khilawat'. This splendid monument that once served as the official residence of the Nizams of Hyderabad during their reign still retains some of its past splendor. It is still the property of Barkat Ali Khan Mukarram Jah, heir of the Nizams, and has been decorated with UNESCO's Asia Pacific Merit award in 2010 as well.



Biryani City
One thing I would say from my experience is people in India crazy about the biryani especially when the name of the shop or restaurant says "Hyderabadi Dum Biryani" no matter which city you are in India, people will go for this biryani, taste, and presentation is the secondary, name "Hyderabadi Biryani" is most important.



Highlights of my Photo Walk
Secunderabad Station
Monda Market
Osmania University
Madina Market
Charminar
Laad Bazaar (Bangle Market)
Macca Madina Mosque
Chowmohalla Palace
I Still Have a long list of places to cover in my next Photo Walk so please wait for some more blogs on Hyderabad attractions.


Gallery of Twin City